In Big Digital Humanities (Michigan University Press, 2016), I discuss how curatorship and curatorial practice are important to the field in multiple ways. An important part of my own curatorial work is to organize conferences, workshops, seminars and other types of events. Often these are experimental in one way or another, including not using slideware, focusing on conversation and thinking carefully about composition, tensions and long-term shifts.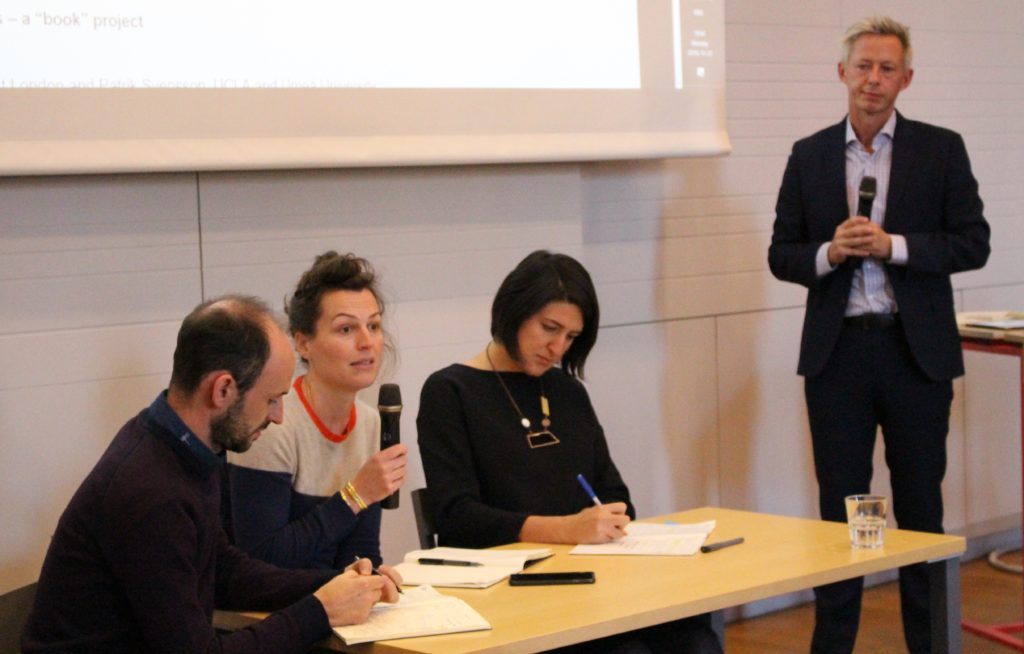 I list a selection of these events below. All of them have been carried out with the help of other people or they would not have happened. My role has been that of chair and curator. The events have been supported through different funding agencies and through Umeå University.
My academic events site contains information about upcoming events and some resources related to event curation.
1) Curated events 2015-2019 (reverse order)
Inaugural Digital Humanities Stockholm event
Jan 29, 2019
In collaboration with the National Library of Sweden (KB)
Part of a strategic collaboration between KTH and KB
About 90 people attended including the president of KTH and the National Librarian. Program, photos and videos here.
Making Change through the Humanities: Institutes, Ideas and Infrastructures
Oct 22-23, 2018
The KTH Royal Institute of Technology, Stockholm
International workshop
Description and program

Workshop om humanistisk infrastruktur (workshop on humanistic infrastructure)
Oct 18, 2018
Participation from the Swedish Research Council, funding agencies, the Ministry as well as scholars and academic leaders from Sweden and internationally
Program, description and videos
Klara Strand, Stockholm
Data-driven Research in the Humanities (datadriven humanistisk forskning)
September 15, 2017
The KTH Royal Institute of Technology, Stockholm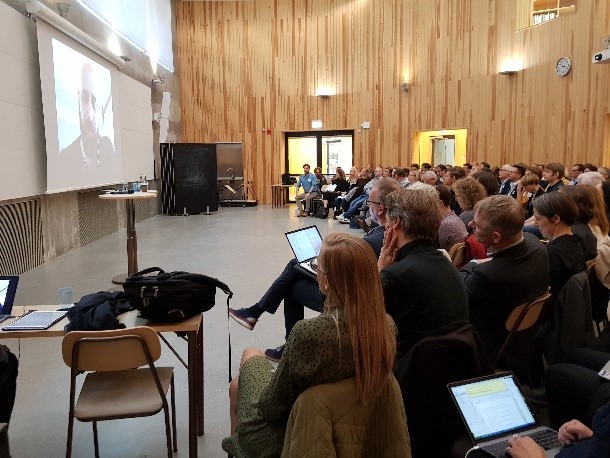 Co-organized with Pelle Snickars, Umeå University. Nationally oriented workshop with international participation. The key question was the interplay of "data" and scholarship in the humanities. About 120 participants and the 25 invited participants included very well-respected scholars from a range of fields, funding agency leadership and cultural heritage leadership. More information here.
KTH Humanities Tech (prototype phase) events 2018-
Analyzing Hate Platforms, Fighting Hate Crimes
Jan 30, 2019, 3-5 pm
Daniela Agostinho, University of Copenhagen
Kenneth Bodin, Algoryx Simulation and Näthatsgranskaren
Raazesh Sainudiin, Uppsala University
Nishant Shah, ArtEZ University of the Arts
Tara McPherson, University of Southern California
Feminist in a Software Lab
Jan 30, 2019, 1-3 pm
Marie Louise Juul Søndergaard, KTH
Tara McPherson, University of Southern California
Nishant Shah, ArtEZ University of the Arts
Jenny Sundén, Södertörn University
Anna Wahl, KTH
Celina Zander, KTH
AI for Survival
Jan 30, 2019, 10-12
Nishant Shah, ArtEZ University of the Arts
Infrastructural Humanities
Oct 23, 2018, 2.15 pm
David Theo Goldberg, UC Humanities Research Institute
Patrik Svensson, UCLA and Umeå University
Engineering for an Inclusive World
Oct 23, 2018, 1.15 pm
Sara Hendren, Olin College of Engineering
Mutualistic Systems Design: improving human and environmental health
Oct 23, 2018, 3.15 pm
Natalie Jeremijenko, New York University and the Environmental Health Clinic
UCLA Digital Humanities Seminars
Five seminars 2016-2017 (and more to come)
Conversational seminars with 3-5 invited participants for each event
University of California at Los Angeles.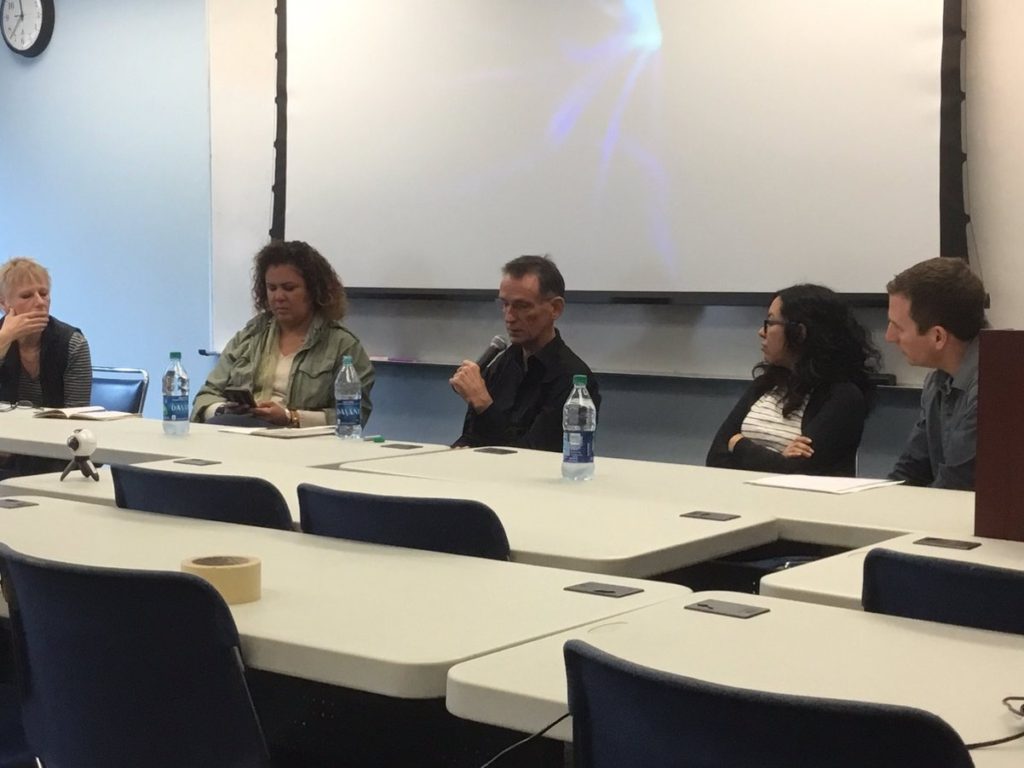 Seminar on "Encoding Diversity", December 9, 2016
SoCal DH Summit: Building Capacity
May 26, 2017
University of California at Los Angeles
(with the UCLA and SoCal DH community)
 
This event brought together 20-25 participants from Southern California (in total 8-10 institutions) to discuss digital humanities in Southern California, earlier experiences, visions and concrete plans moving forward. A concrete result was the implementation of an incubation organization. The summit took place at UCLA. More information here. Photo credits: Francesca Albrezzi.
Making a Real Difference
November 21, 2016
University of London
Being Human Festival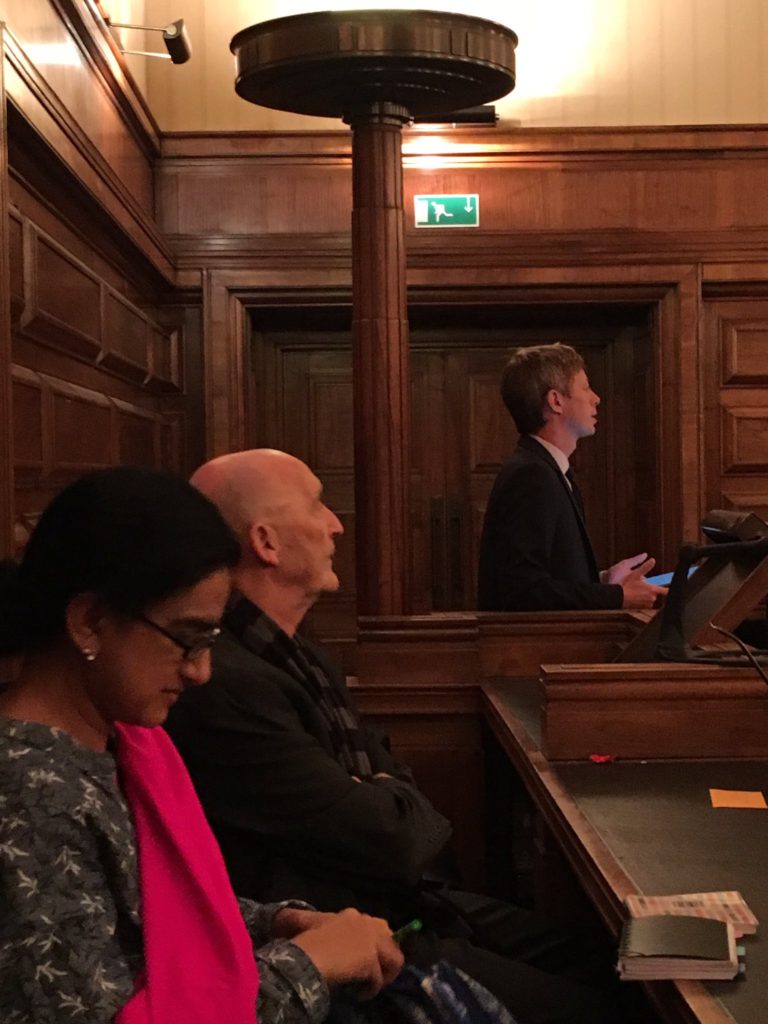 This two-hour conversation took place in Senate Room, the Senate House, University of London as part of the Being Human Festival 2016. The theme was making a real difference and the discussants were Gargi Bhattacharyya, the University of East London, Gary Dirks, Arizona State University, David Theo Goldberg, University of California Humanities Research Institute, Natalie Jeremijenko, New York University and Barry Smith, University of London. More extensive description here.
Photo credit: Barry Smith.
Critical Visualization: Unflattening and Enacting Visualization
June 9, 2016
The Graduate Center, City University New York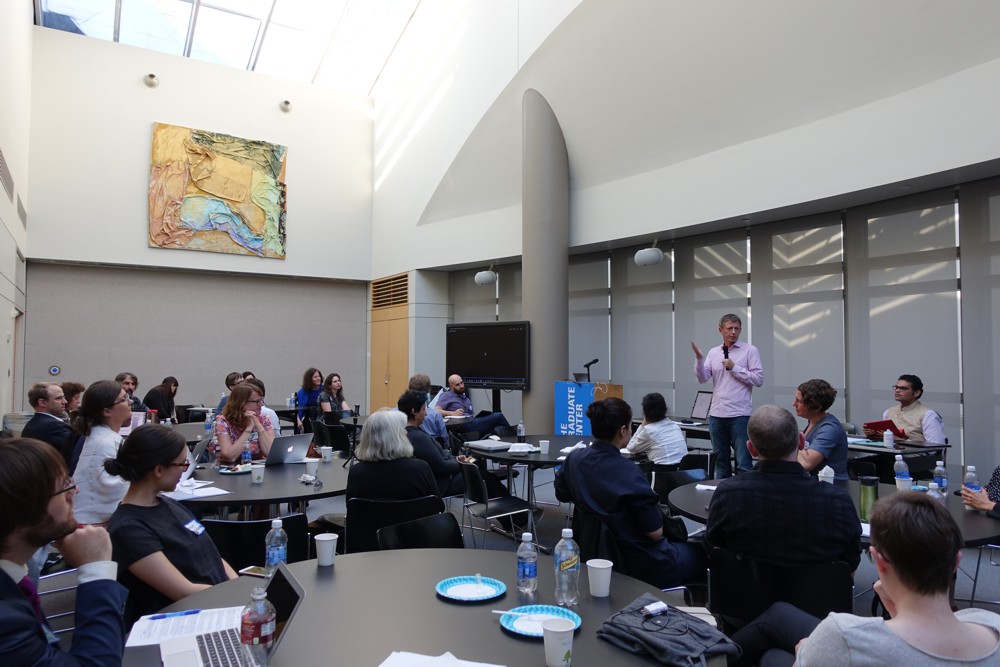 Workshop/conference with about 50 participants including Lauren Klein, Nishant Shah, Meg Studer, Kelli Moore, Daniel Fallman and Martha Poon. Statement, program and reading list available here.
Digging Deep: Ecosystems, Institutions and Processes for Critical Making
December 1, 2015
The Graduate Center, City University New York

Workshop/conference with about 50 participants including Anne Balsamo, Matt Ratto, Lev Manovich, Cathy Davidson and Roopika Risam. Program available here.
Being (Digital) Humans
November 17, 2015
Senate House, School of Advanced Studies, University of London
Event at Being Humans: A Festival of the Humanities organized with Lorna Hughes. Program available here.
2) December events 2010-2014
During 2010 and 2014, I curated five large experimental December events in HUMlab. These were not a series in the sense of a new iteration each year, but rather part of a connected exploration of academic events and international network building. We had a fantastic setup of people participate. December in the North of Sweden is dark and normally cold, and the particularities of very short days (in terms of light) and the warmth of inside (as opposed to outside) added importantly to the events. Again, all these events were collaborative efforts and a group of excellent HUMlab employees (if I were to single out one person it would be Emma Ewadotter who expertly helped me coordinate all the below events) helped them come through. Photos in the list link to event websites.
Media Places, December 9-11, 2010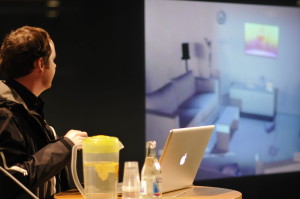 Critically Making the Internet of Things, December 8-9, 2011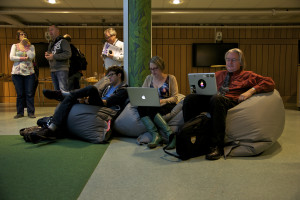 Infrastructure|Space|Media. December 5-7, 2012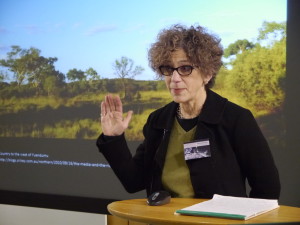 Sorting the Digital Humanities Out, December 5-6, 2013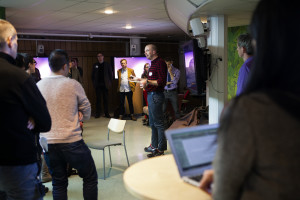 Genres of Scholarly Knowledge Production, December 10-12, 2014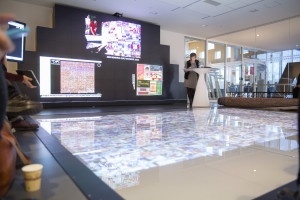 3) Seminars
Between 2000 and 2014 I chaired several seminar series in HUMlab, although sometimes others would take this responsibility. I chaired in the neighborhood of 130 seminars over this time and the seminar series have been a central curatorial tool: a way to bring in interesting scholars, technologists and artists from all over the world and to support sharp intellectual exchange and joint exploration. We started to live broad cast seminars in the early 2000s and built several platforms to achieve this.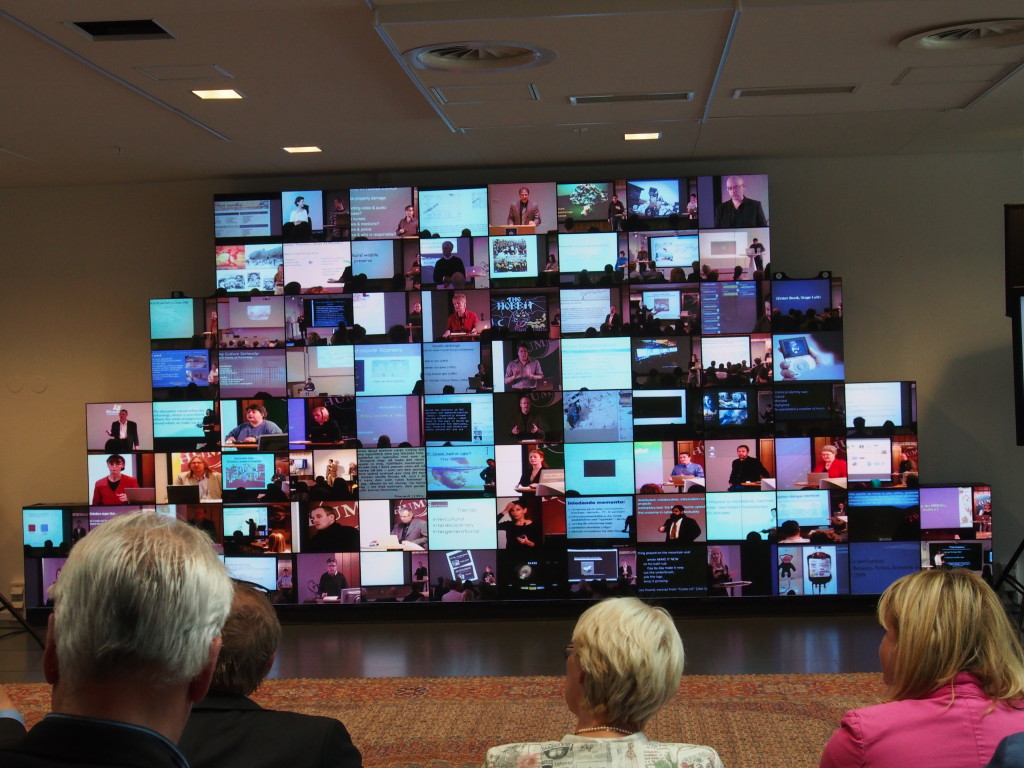 I was heavily involved in the development of these platforms. The rationale was that if one brings in really interesting guests, it makes sense to make the seminars available outside the physical space. The HUMlab Streaming Archive now includes some 160 seminars. Currently I organize the UCLA digital humanities seminar series (see above) and a series of events on the national level in Sweden.
4) Other events
I have also curated and chaired many other events – often in collaboration with others. Some examples are listed below ( (where I had the main responsibility).
[December 6-7, 2000]
National Symposium on Visualization
Mid-sized event with invited guests and local participants
[September 12, 2001]
Inauguration of HUMlab, Phase II
Large-scale event with Swedish and international speakers
[December 5-6, 2001]
Från tradition till vision [From Tradition to Vision]
International-Swedish conference on language learning and technology
In collaboration with Ulrike Klingemann, Stockholm University
English version of the program available here (pdf file).
[September 17-18, 2003]
Dynamic Maps: A HUMlab workshop
International workshop on mapping and visualization
[January 17-18, 2005]
Den teknologiska texturen [The Technological Texture]
International-Swedish conference on the humanities and information technology
Photo collage available here (pdf file).
[May 11-12, 2005]
Från Vision till Praktik: Språkutbildning och informationsteknik
[From Vision to Practice: Language Education and Information Technology]
In collaboration with Ulrike Klingemann and Therese Örnberg-Berglund
Photo collage available here (pdf file).
[May 14, 2009]
HUMlab event after a large  expansion and new research initiative
A range of international och national speakers (program available here)